"We wouldn't go back to that other life for anything….
The freedom we have is simply amazing. And while we still deal with everyday life, there is serenity all around us.
— Howard Payne, Full-Time RVer and RV Freedom Now Story Contributor
If you are dreaming of a Full-Time RV Life
It's time to stop dreaming and take action!
Discover the 10 Steps You Need
to Live the Ultimate RV Lifestyle
from Real-World People Already Doing It
Hello, I am Rob Scribner, known as Rangerrob:
Owner of RV Travel Buddy – 
Click Here To View
My wife and I have been Full Time and Part Time RVers, and have learned a few tricks and information that other RVers should know about.
This is a fun and informative report for current, and future RVers to enjoy.  This is not a slam report.  It's a RVers tool, to prevent your new RV freedom from being upsetting.
Let us tell you about what you need to do before, and after you hit the road, as a Full Time or Part Time RVer.  
Your experience will be better, and we will save you money.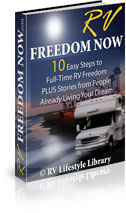 "When we were in the market for our first RV we didn't know much about them, except that we wanted one. While researching the subject I ran across the Insider's Guide to Buying an RV, and every page in the book answered the questions I had and many more I didn't even think about. Not only did it help in deciding the type of RV right for us, but it prepared us for shopping phase as well." ….Charles & Sonja Weston from Austin, TX